The most capable Ecommerce integration for QuickBooks is now available for WooCommerce and QuickBooks POS!

Not only does CartSpan offer the 'deepest' and most capable integration between your WooCommerce shopping cart and your QuickBooks Point-of-Sale (POS) system, it does so at a fraction of the on-going operation costs of competitive offerings.  CartSpan's flat-fee licensing helps you keep more money in your pocket. We don't care how many orders you import over the course of a year and our pricing doesn't scale to cut into your profits.
Additionally, CartSpan authors its own integration with WooCommerce, offering you greater flexibility and higher quality imports to support your business process.  For instance, CartSpan recognizes a handful of popular extensions for WooCommerce that provide enhanced functionality for customer roles, payment processing, and custom order numbering that competitive offerings have no way to support.
The following screenshot illustrates an import and the additional information provided in the Instructions field of the POS order: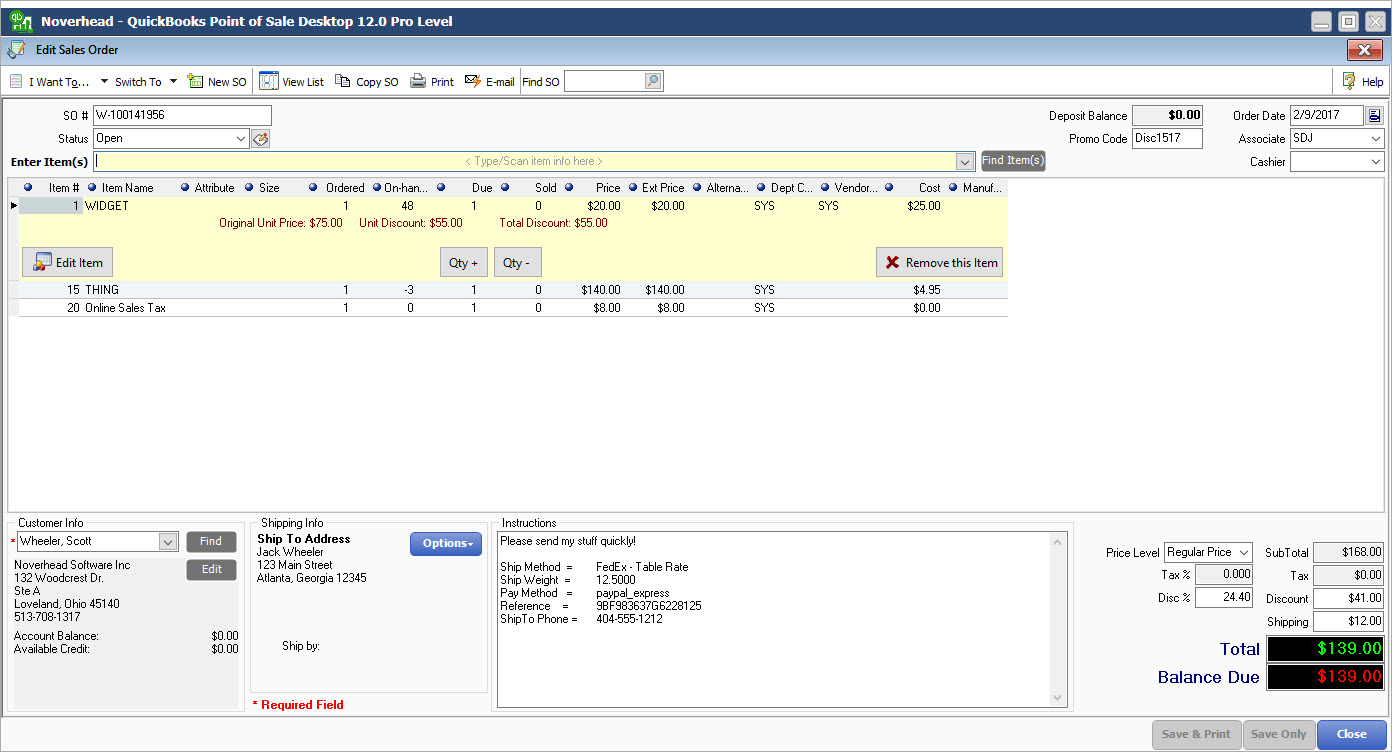 We also offer native support for some very popular WooCommerce extensions:
Stripe Payment Gateway WooCommerce Addon (FREE!) – Syed "Nazrul" Hassan, author of the 'Stripe Payment Gateway WooCommerce Addon' (SPGWA) has extended the functionality of his extension to support CartSpan integration with WooCommerce. The basic WooCommerce implementation allows payments to be taken via PayPal, but will not provide suitable detail regarding the payment method for merchants to reconcile payments. The basic PayPal integration will only provide back a reference of 'Credit Card' for the online payment transaction. His 'Stripe Payment Gateway' has been extended to allow merchants using the CartSpan eCommerce integration to import a 'real' reference as to what type of credit card was actually used (i.e., Visa, MasterCard, Discover, etc.) as well as a reference to the last four digits of the card used.
This small, but very important feature, supports a superior integration where the merchant may more easily reconcile payments made with bank statements from the associated card companies. This functionality is especially useful with QuickBooks U.S. accounting system where the built-in 'Undeposited Funds' feature is targeted to this business process of payment reconciliation.
We are aware of no other extension for WooCommerce that enables this level of support for payment method detail…not even the commercial extensions offered by WooThemes. We are also not aware of any other accounting integration tool for WooCommerce capable of utilizing this additional detail even if it were provided by the gateway. CartSpan + SPGWA represents the most effective approach to accounting integration and payment reconciliation available. Though this Addon is offered for 'free', many developers rely on supplemental income via the donation process to sustain themselves. So, if you end up using this Addon, please consider 'buying Nazrul a beer' to show your appreciation!
WooCommerce Sequential Order Numbers Pro plugin – If your business has a 'must-have' requirement of order numbers being formatted to a legacy convention, the Sequential Order Numbers Pro plug-in by WooThemes may be able to help you. It supports initialization of the order numbers themselves to a value that you choose, as well as options for adding a customer prefix and/or suffix.