Sage 50 ShippingEasy Integration by CartSpan
Higher capability, better value, better support!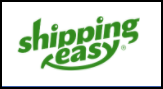 ShippingEasy is online shipping software that connects to approximately 40 popular E-Commerce platforms to get your product where it needs to go.  CartSpan will connect directly to your ShippingEasy account to import all order activity into Sage 50 U.S..  If you are a merchant that sells via multiple channels like Shopify, Amazon, Ebay, and any of the other E-Commerce platforms that ShippingEasy supports, you can save yourself a significant amount of money utilizing CartSpan to handle your imports.
CartSpan can handle very high volumes of order data assuming that your accounting system is not already pushing the limits with respect to company file size.  CartSpan is presently being used by one ShippingEasy customer that imports over 14,000 orders per month via 15 different E-Commerce channels…many listed in the Solutions menu at the top of this page.
CartSpan also has many configurable options to help you get your orders into Sage 50 in an optimal manner.  For instance, CartSpan allows you to direct order by individual E-Commerce channel to a common Customer Name in Sage 50.  The benefit of common customer assignment by channel helps you avoid data-bloat in the accounting system.  Alternately, you can create individual item masters if you desire.  Another valuable option for users concerned with visibility by sales-channel is CartSpan's ability to associate a GL Sales account by Store ID versus just product-level sales.  There are many, many more configurable options to import your data just the way you need to see it.  All of these features can found transparently HERE on the CartSpan site.  If you don't see something that you need, let's chat…that's how our product grows!